Water Alert with text message and email notifications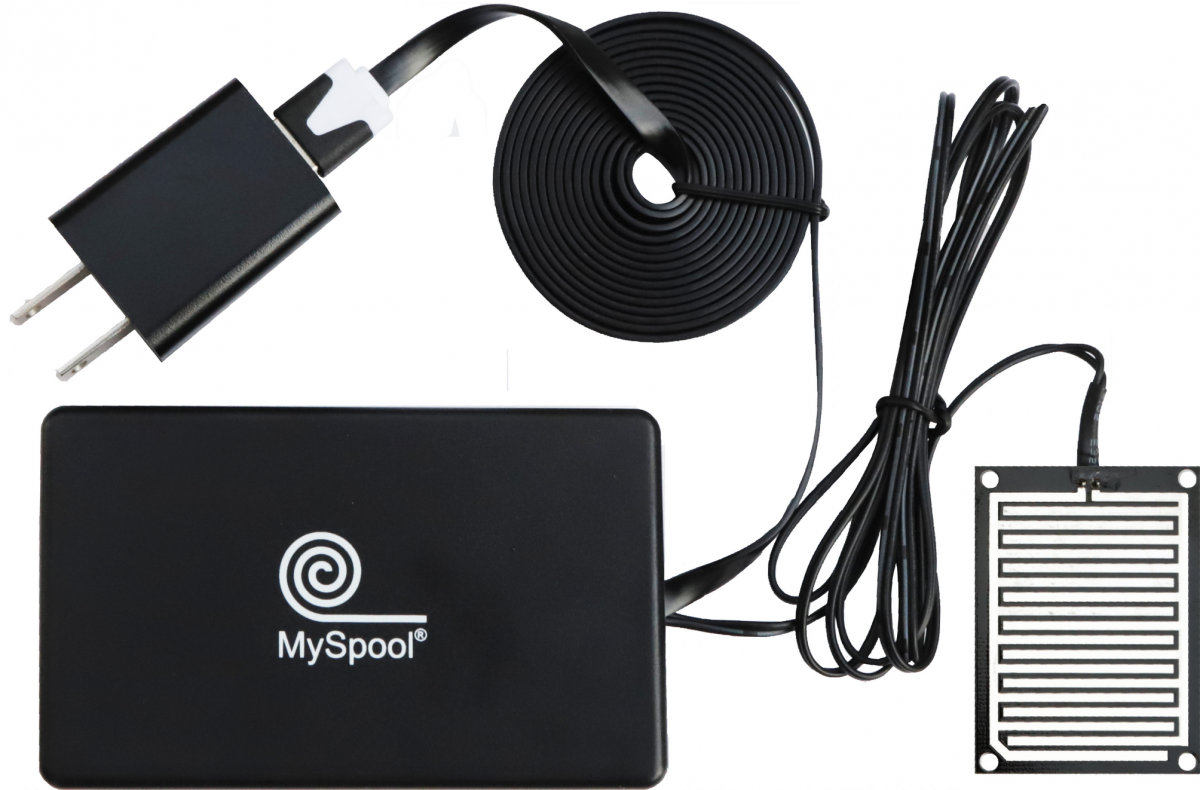 WATER Alert is a smart device that sends out an alert when water is detected by its sensor. That alert is a message, either via email or text, or both. Optionally, this device can also send you pushbullet notifications. Alerts are repeated every 5 minutes until the sensor is dry. Water Alert is configured to use your WiFi. The setup takes a few minutes with a smart phone or a laptop. Once your Water Alert has been setup, a few details need to be specified in the Alerts Portal. They include your email address and phone number.
The Alerts Portal is a secure area of myspool.com for configuring settings such text message content and hours of operation. It is accessible to owners of Water Alert devices.
When setup has been completed, any time water is detected an email will be sent to you. If configured, you will also get a text message and a pushbullet notification. The Water Alert has been successfully tested at over 250 feet from WiFi router and through some walls.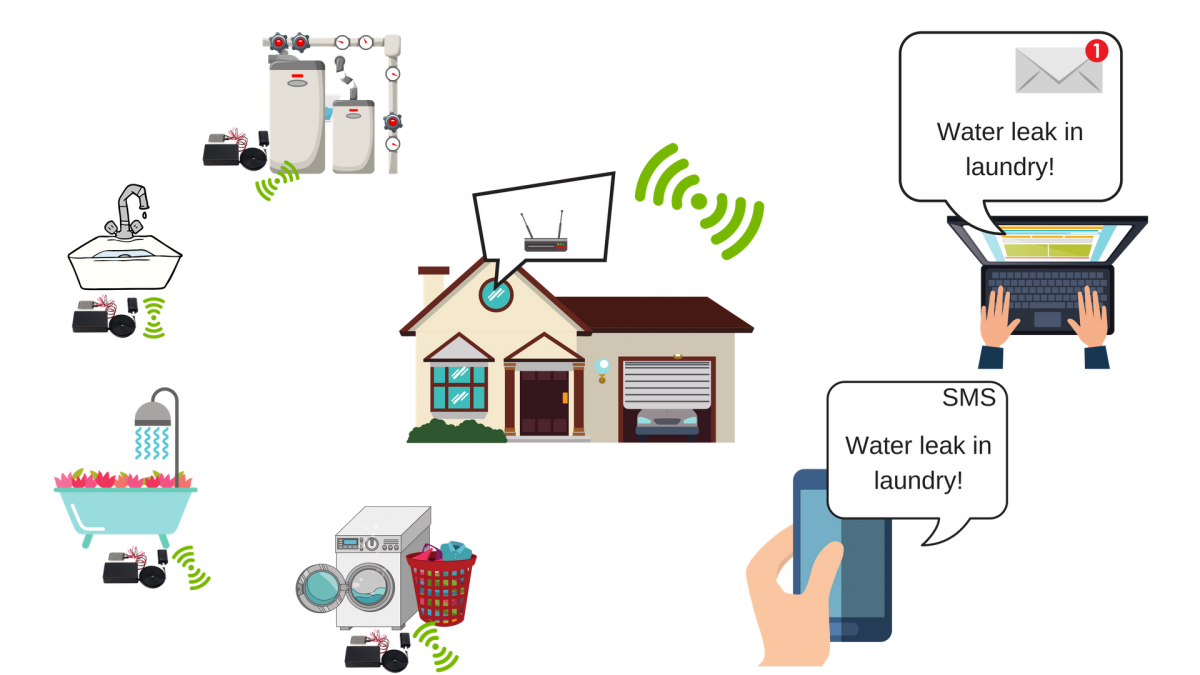 Be Alerted of Leaks While away from Home or Business
MySpool Water Alert is a smart water sensor that sends email, text, and smartphone alerts to homeowners, renters, business owners, and property managers as soon as a water leak is detected.  Avoid costly repairs by keeping the Water Alert anywhere that has the potential for flooding or developing a leak.
No Hub Required
With the Myspool Water Alert you can avoid the limitations of other hub-based and wired products. Each Water Alert works independently with your Wi-Fi network eliminating the necessity of a Hub to coordinate the emergency signal. The Water Alert can be placed in multiple locations throughout your home or business. Your notifications will include the text for each Water Alert that you specify in the device configuration at Myspool.com. Name your locations and place it near sinks, refrigerators, washers,  sump pumps and in basements.
One-Time Configuration 
To configure your Water Alert, you will need an account at Myspool.com, name and password of your Wi-Fi network and a smart phone, tablet or a laptop. Follow the steps in the instructions to configure your Water Alert with your contact information at Myspool configuration portal. Then configure your device with your home WiFi network. Once water is detected, you will immediately receive email, text or push notifications via the Wi-Fi network.  WaterAlert will retain all configuration information even if power is lost.
No Fees
There are no fees for using Myspool Water Alert for any kind of alert notifications.
Flexible design
Myspool Water Alert comes with an extra long 6 foot power cord connected to an enclosure with a transmitter. The enclosure can be placed on a shelf, mounted on any smooth surface with included double sided pads, or simply left on the floor. The actual water sensor is nickel plated to resist oxidation. It is connected to the enclosure with a set of wires over 2 feet long. This allows the sensor to be placed in hard to reach places, including a crawl space or a sump pump bucket. The only requirement for the Water Alert location is that a WiFi network is available to access Myspool cloud servers.
Battery Powered Float Switch Edition 
Enjoy all the benefits of the Rugged Water Alert with a battery powered edition mated to a float switch. The enclosure of the Battery Powered Water Alert can support up to 250 lbs. You can step on it in the dark and not worry about destroying it. It is also more water resistant than a standard Water Alert enclosure. The Battery Powered Water Alert comes with a float switch connected with a 3 ft long cable. The switch must be mounted vertically.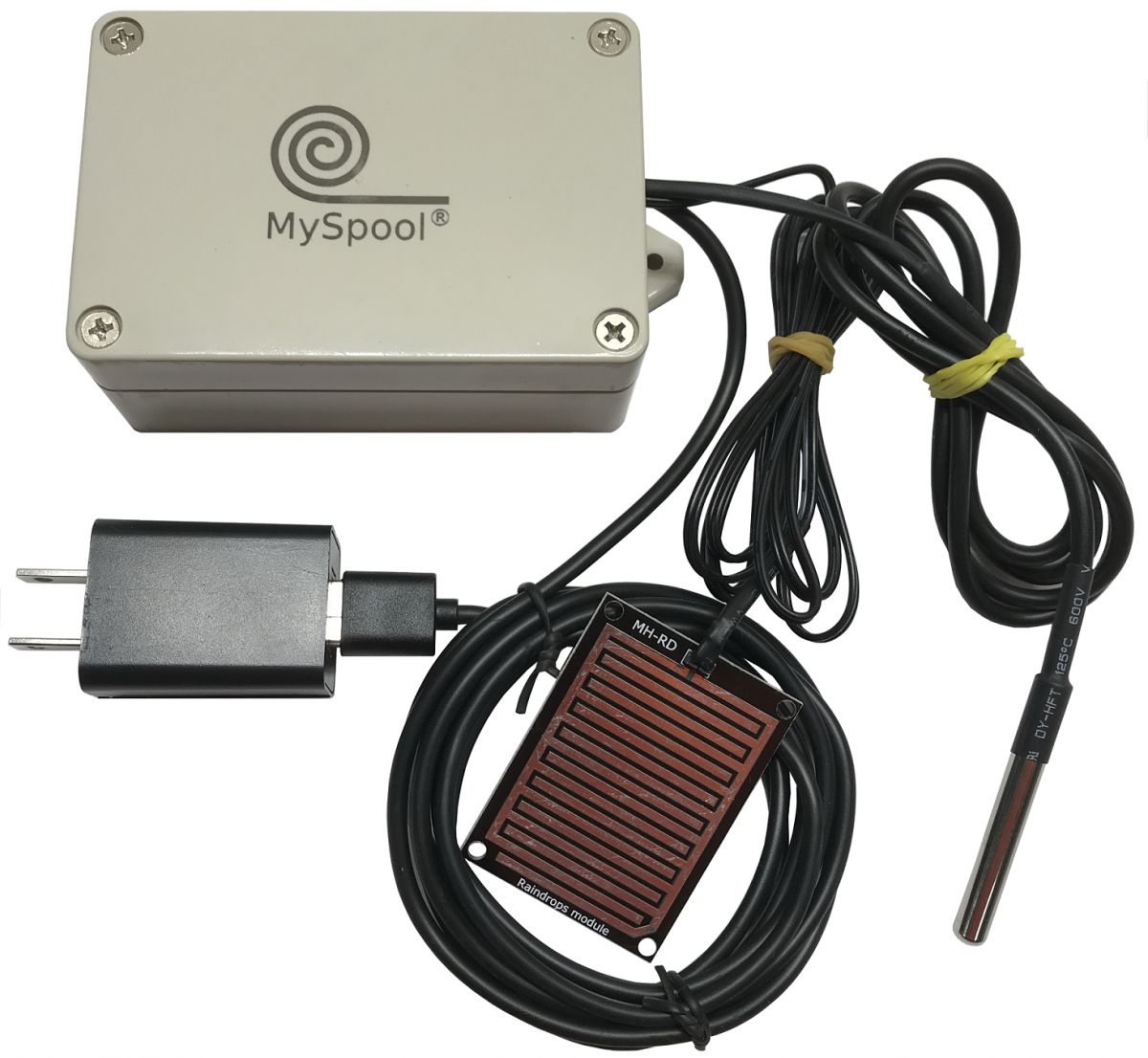 Water and Temperature Edition 
Water and Temperature Alert comes with two hardened sensors in a rugged enclosure: a water sensor and a temperature sensor. Get an email and a text message notification when water is detected. And get an email when temperature exceeds high or low thresholds. There is also a data collection mode for temperature that sends data to a ThingSpeak channel if configured.
A must-have 
For renters, homeowners, property managers, and business owners everywhere, the Water Alert  is a must-have device, saving you thousands of dollars in damage and costly repairs. Avoid the hassle and headache and get your Water Alert today.