Circuit Board + Processor for DIY projects, no text message support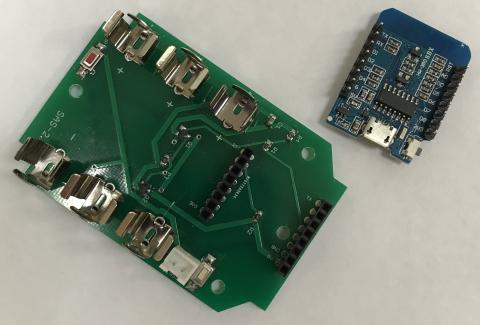 This circuit board plus the included processor with our code is all you need to make a Smart Sensor:  short the pins on the white connector and you will get an alert! 
Use your imagination and our portal to configure your custom device!  
Note 1: your device is configured as SENSOR. Refer to CALLME Button FAQ for documentation on how to configure your device. Press the 'sensor' button or short the two pins of the white connector to activate your device. 
Note 2: only email and pushbullet alert notifications are supported.  3 AAA batteries required, not included.
Free Shipping
---
Sensor Configuration Overview
Register a user ID for yourself: use Registration Code on the enclosed card and Create an Account   Then you will be able to Register New Device and Configure Device.  Be sure to add your email address and CONFIRM your email when you receive an email confirmation request.

After that you will need to tell your Sensor how to use your WiFi - follow the directions for the CALLME Button setup.  

You Activate your sensor by pressing a 'Sensor' button or shorting wires connected to the white pin header.

We hope that you find this device useful and share with us your application of it.