Frequently Asked Questions - TEMPERATURE
I have a MySpool Water and Temperature Alert. How can I use Alexa to ask for Temperature?
Alexa skill is available in beta which means we are still working on it. You  are free to try it. However, we are not able to provide support for it at this time.
Please look for MySpool skill in Alexa and enable it.  Then add your device to Alexa. To do that say 'Alexa, open my spool devices', then say 'add device XXXXXX'   where XXXXXX is your device ID.  To find your device ID, login to your account on myspool.com and click on MY DEVICES.  You should then see something like this: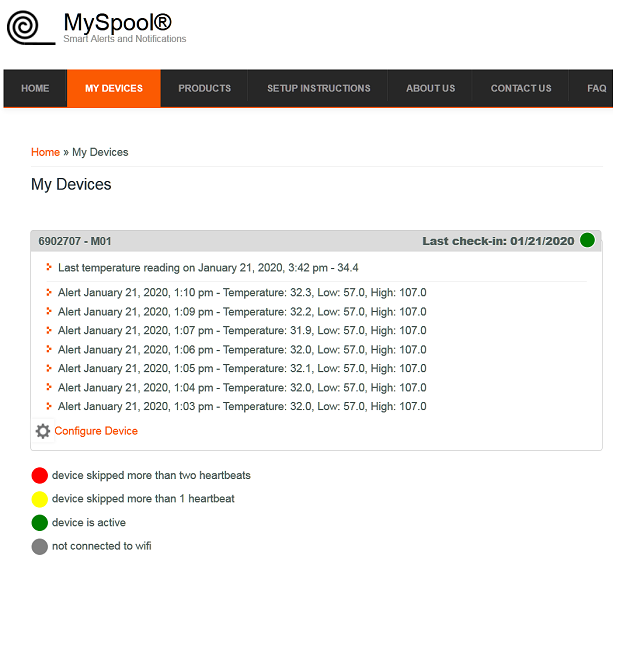 The device ID above is 6902707.  To add it, say 'add device six nine zero two seven zero two' 
Then you should be able to say  'Alexa, ask my spool devices my temperature'  
You can also say  'Alexa, open my spool devices'  and then issue commands.  They can be one of these:
- add device NNNNNN ​(up to 3 devices can be added)
- remove device   (removes first device)
- add temperature NNNNNN
- remove temperature (removes first device)
- all temperatures 
- all temps
- 'something' temperature     e.g. attic temperature  or  hot tub temperature   or simply   my temperature
Is there a way to see what the Temperature sensor of my Water and Temperature Alert is showing?
Yes there is. You must be logged in to myspool.com.  Click on MY DEVICES and see the first line after the device ID and Last check-in time stamp.  It will show the temperature in the units that you specified when you configured your device.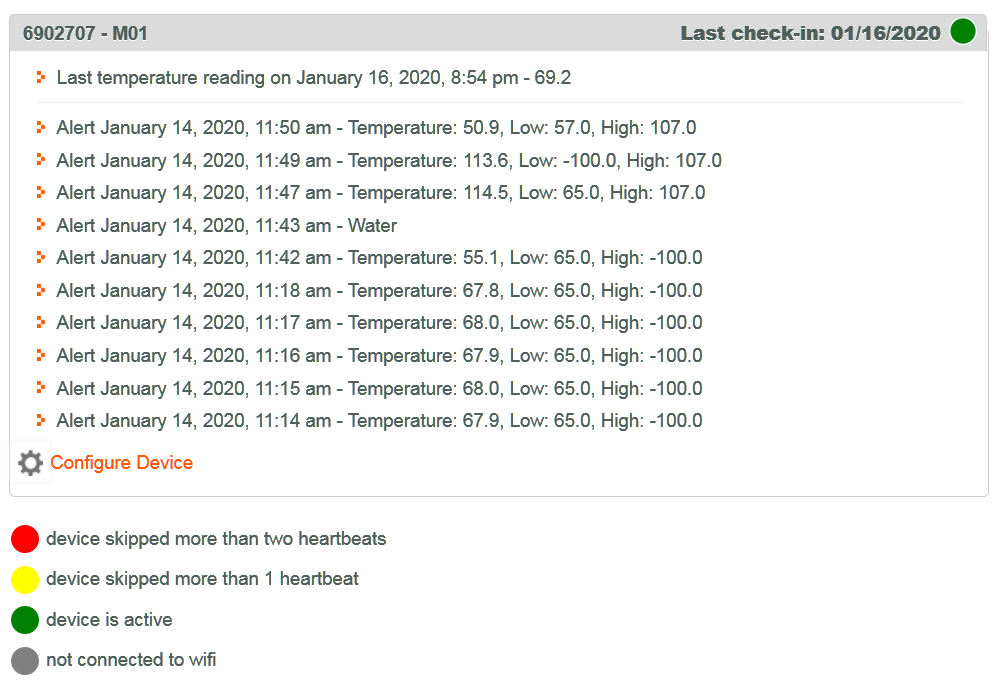 I purchased a Water and Temperature Alert. When I change Low or High Temperature Thresholds nothing changes. How does this work?
High and Low Temperature Thresholds can be changed when you you login to myspool, click on MY DEVICES, and then click on MySpool Temperature Sensor. You can then select your temperature units, Celsius or Fahrenheit, and set Low and High thresholds.  The thresholds set to -100 are ignored.  When your changes have been entered and you clicked Save, they are saved in the cloud for your sensor.  To make your sensor aware of these changes, unplug your device and plug it back in.  Otherwise those changes will be transmitted to your device when it checks in, usually once a day.